Slow Aging, Boost Your Sex Drive & Get Smarter With Mangoes!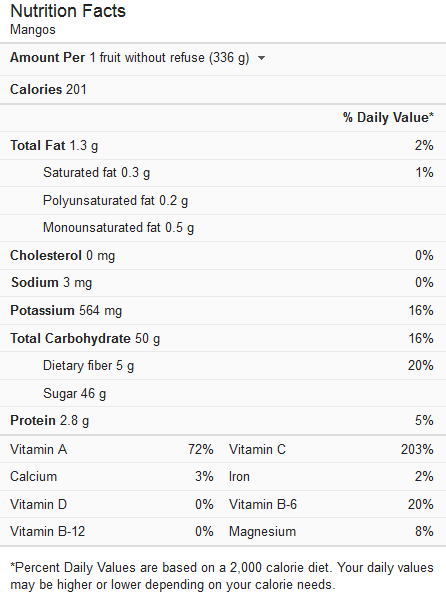 Mangoes are plentiful in Guyana and there are many reasons why you should indulge. Mangoes are delicious and has been proven in clinical studies to make your immune system healthier.
One cup (225 grams contain) contains the following. The health benefits of this power fruit is immense, here are just three that you may find interesting.
Slow Aging
Mangoes contain high amounts of vitamin A and vitamin C, which both help to produce collagen proteins inside the body. Collagen helps to protect blood vessels and the body's connective tissues, thereby slowing down the skin's natural aging process. Therefore, mangoes can rightly be called an anti-aging food. Dietary supplementation is the best way to restore your youth in a natural and delicious way.
Boost Your Brain Power
Mangoes have abundant quantities of vitamin B6, which is vital for maintaining and improving the brain's function. These vitamins aid in the amalgamation of the major neurotransmitters that contributes in determining mood and the modification of sleeping patterns. They naturally provide significant quantities of this vitamin. With mangoes as a part of your diet, you can be assured of a healthy brain and effective nerve functioning. You will also be avoiding medicinal supplements, which have a long list of possible side effects. The Glutamine acid content in mangoes also improves concentration and the power of your memory.
Boost Your Libido
Mangoes are a great source of vitamin E. Even though the popular connection between sex drive and vitamin E was originally created by a mistaken generalization on rat studies, further research has shown balanced proper amounts (from whole foods) does help.
Other Interesting Facts:

The mango is a juicy stone fruit (drupe) belonging to the genus Mangifera, consisting of numerous tropical fruiting trees, cultivated mostly for edible fruit. The majority of these species are found in nature as wild mangoes. They all belong to the flowering plant family Anacardiaceae. The mango is native to South Asia, from where it has been distributed worldwide to become one of the most cultivated fruits in the tropics.
While other Mangifera species (e.g. horse mango, Mangifera foetida) are also grown on a more localized basis, Mangifera indica—the "common mango" or "Indian mango"—is the only mango tree commonly cultivated in many tropical and subtropical regions.
It is the national fruit of India, Pakistan, and the Philippines, and the national tree of Bangladesh."
Source: Wikipedia, 2017: https://en.wikipedia.org/wiki/Mango